Kingdom Guild
Jump to navigation
Jump to search
Intro
The Kingdom Guild is low-to-mid level content that involves turn-in quests and special Kingdom equipment, meant to give you a head start in your Midgard journey. After you change to your first job, you will receive a quest that leads you to your guild's Coin Commissioner. Talk to them to get your first 2 Kingdom Guild Coins.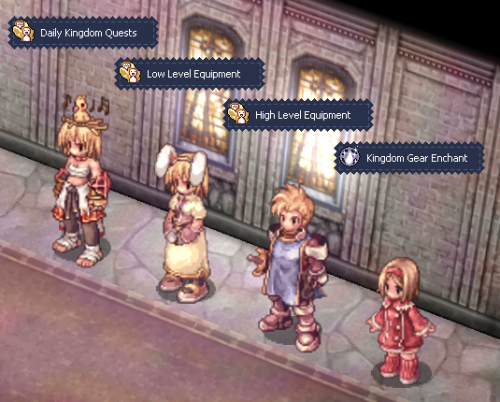 Kingdom Guild Coins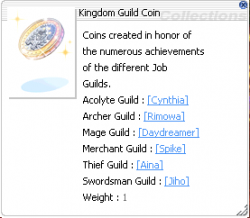 You receive Kingdom Guild Coins by doing turn-in quests for the various guilds across Rune-Midgard. These coins are then used to purchase Kingdom equipment as well as to enchant that equipment.
Quests
All Kingdom quests are turn-in quests where you turn in X amount of a certain item. Quests are broken into tiers: Base Level 1, Base Level 15, Base Level 31, and Base Level 41. There are some important things to note about quests:
You can repeat each quest as often as you want to get Base EXP.
The first turn in of the day for each quest grants a Daily Reward of Kingdom Guild Coins.
You also get an additional Daily Guild Reward for a quest if you turn in the quest at your respective Job Guild (i.e. Acolyte turns in at Prontera Church).
The Level 1 & Level 15 quests are specific to each Job Guild, but anyone can do them.
The 31+ & 41+ quests are shared between all Job Guilds.
Rewards
Level 1-15 Class Quests
Level 31+ and 41+ Common Quests
Daily Quest Explanation
If you turn in a quest at your respective Job Guild and its the first time you're turning in that quest that day, you get an additional reward. The reward you get depends on the level of the quest. Note that this also stacks with the extra Kingdom Guild Coin reward that you get on turning in a quest for a first time that day.
For example, if you are an Acolyte and you turn in the Grasshopper's Leg quest for the first time that day at the Prontera Church, you would get:
If you turn in the same quest again that day, you will only receive the Base EXP reward.
Gear Exchange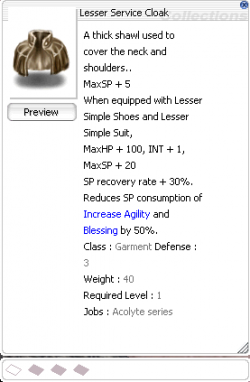 Kingdom Guild Coins can be exchanged for Kingdom equipment. The Kingdom equipment comes in sets of a Garment, Shoes, Armor, and Shield. You can get the entire set of the lowest tier (i.e. Level 1) equipment for 2 Guild Coin. Equipment tiers can be divided by the base level requirement to wear that gear. Thus, there are 6 tiers of gear.
Levels 1, 20, 30 are considered low-tier equipment while levels 40, 50, and 60 are considered high-tier. Each set gives certain bonuses, and high-tier equipment has total refine bonuses as well. The Kingdom Guild Coin cost of each piece of equipment increases as you go up the tiers. So, a Level 1 piece of equipment costs 1 Kingdom Guild Coin, and a Level 60 piece costs 24 Kingdom Guild Coin.
Lower tier
Higher tier
Enchanting
Each piece of Kingdom equipment can be enchanted once.
It costs 1 Kingdom Guild Coin to enchant a piece of equipment.
Resetting an enchantment also costs 1 Kingdom Guild Coin.
There is no chance of breaking, and the enchant always succeeds.
Low-tier Enchanting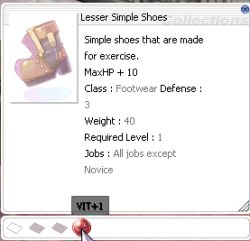 The low-tier equipment enchanting NPC is with the other Kingdom Guild NPCs. Each Job Guild's low-tier enchanting NPC will add +1 of a specific stat to the piece of equipment you select. Any class can use any enchanting NPC at any Job Guild. For example, an Acolyte can go to the Archer Guild to enchant a low-tier garment with +1 DEX.
| Job Guild | Enchant |
| --- | --- |
| Archer | +1 DEX |
| Acolyte | +1 VIT |
| Mage | +1 INT |
| Swordsman | +1 STR |
| Thief | +1 AGI |
| Merchant | +1 LUK |
High-tier Enchanting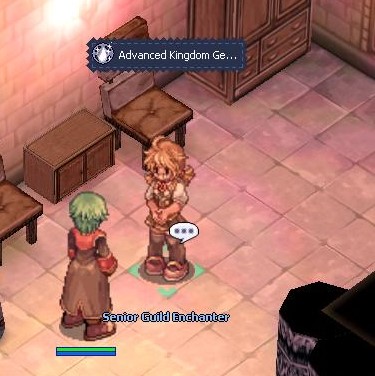 High-tier equipment can be enchanted in Prontera Castle by the Senior Guild Enchanter prt_castle11950. Note that high-tier equipment can not be enchanted by the low-tier enchanter NPCs. Unlike the low-tier equipment, the high-tier equipment is a random +1 - +3 of a random stat. The higher the tier, the better chance you have of getting a higher stat enchant. The cost to enchant (or reset) a high-tier piece of equipment is still only

1 Kingdom Guild Coin.
Enchant (random stat, random amount)
1 ~ 3 DEX
1 ~ 3 VIT
1 ~ 3 INT
1 ~ 3 STR
1 ~ 3 AGI
1 ~ 3 LUK