Card Desocketing
Jump to navigation
Jump to search
Card Desocketing is a way for players to remove slotted cards from their equipment.
How to Remove Cards
Cards can be removed from their items by Hunky Fairy paramk30164 in Prontera.
The success rate is 100% and there is no chance of losing your Gears and Cards or Enchants.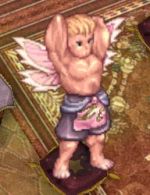 To remove your cards you will have to provide an amount of Zeny and

Daily Coins. The formula used to calculate the amount is:


Zeny = Sum of cards price × Refine Level of your gear.

Daily Coin = Amount of Cards × 3

Daily Coins.

These are the prices of the various type of cards:
| Type of Card | Price |
| --- | --- |
| Normal | 3.000.000z |
| Miniboss | 7.000.000z |
| Boss | 10.000.000z |